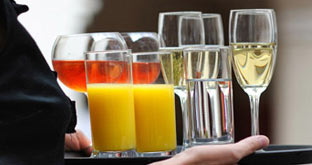 Laws specifying requirements or incentives for retail alcohol outlets to participate in server training programs (often referred to as Responsible Beverage Service).
Currently in the United States
Source: Alcohol Policy Information System (APIS), a project of the National Institute on Alcohol Abuse and Alcoholism
(http://alcoholpolicy.niaaa.nih.gov/Beverage_Service_Training_and_Related_Practices.html)
37 states plus the District of Columbia have enacted mandatory or voluntary statewide server training laws
18 States plus the District of Columbia have a Mandatory RBS Law (listed below)
25 States have a Voluntary RBS Law (listed below)
Some States have a mix of both Mandatory and Voluntary RBS Law
Mandatory RBS Training State Laws
Alaska
Sec. 04.21.025. Alcohol server education course.
(a) As a condition of issuance or renewal of a license and selling alcoholic beverages under a license, the board shall require a licensee who sells or serves alcoholic beverages and a licensee's agents and employees who sell or serve alcoholic beverages or check the identification of a patron to complete an alcohol server education course approved by the board, if the license is for a (1) beverage dispensary; (2) restaurant or eating place; (3) club; (4) package store; (5) recreational site; (6) pub; (7) conditional contractor.
Delaware
Title 4 – Alcoholic Liquors – Chapter 12. Delaware Responsible Alcoholic Beverage Server Training Program.
(7) The establishment of a mandatory responsible alcoholic beverage server training program will promote highway safety and the public health and welfare of the citizens of Delaware.
District of Columbia
D.C. Code § 25 – 120 (2014) § 25 – 120. Manager's license requirements and qualifications.
(d) A manager shall complete an alcohol training and education certification program conducted by a Board-approved provider. The manager shall be recertified every 2 years from the date of the initial certification.
Indiana
C 7.1-3-1.5 Chapter 1.5. Certification of Alcohol Server Training Programs
Louisiana
Maryland
Michigan
Montana
New Hampshire
New Mexico
New Jersey
Nevada
Oregon
Rhode Island
Tennessee (on-premises)
Utah
Vermont
Washington
Wisconsin
Voluntary RBS Training State Laws
Alabama
Arizona
Arkansas
California
Colorado
Florida
Illinois
Iowa
Maine
Mighigan
Minnesota
Nebraska
New Hampshire
New York
North Carolina
Ohio
Oregon
Pennsylvania
Rhode Island
South Dakota
Tennessee (off-premises)
Texas
Virginia
Washington
Wyoming
Goals of RBS Programs
Responsible Beverage Service (RBS) or server training programs have two goals:
(1) to establish policies and procedures in retail alcohol outlets for preventing alcohol sales and service to minors and intoxicated persons; and
(2) to train managers and servers/clerks to implement those policies and procedures effectively. Server/clerk training focuses on serving and selling procedures, signs of intoxication, methods for checking age identification, and intervention techniques. Manager training includes the server/clerk training as well as policy and procedures development and staff supervision.
History of RBS Programs
Experimental RBS programs first appeared in the early 1980s. States with RBS provisions have either mandatory programs or incentive-based voluntary programs. Voluntary, private programs exist to varying degrees in the other States, but those States do not have provisions that provide statewide structure for the design and implementation of these programs.
A program is designated as mandatory if State law requires at least some alcohol retail employees to attend an RBS training. Thirteen States require some type of RBS training, but these States vary widely in who must participate:
Type of employee : Statutes may require owners or licensees, managers and servers/clerks, or a subset of these classifications to participate;

Type of outlet : Statutes may require either on-sale or off-sale establishments, or both, to participate; and

Date of license issuance : Statutes may require participation from establishments with licenses issued after the legislation is enacted or from all establishments, regardless of the date of the license.
The 11 States that have established voluntary programs provide incentives for retailers to participate in RBS, but do not impose penalties for those who don't. Incentives vary by State and include:
(1) a defense in dram shop liability lawsuits;
(2) mitigation of fines for sales to minors or intoxicated persons;
(3) discounts in dram shop liability insurance; and (4) protection against revocation of a license for sales to minors or intoxicated persons.