Disaster cleanup work is extremely hazardous. After a catastrophic storm, disaster recovery workers and volunteers need to protect themselves from various hazards such as polluted floodwater, chemical exposures, electrocution, drowning, struck-by, caught-in and other hazards during clean-up.
Clean-up work may involve restoring electricity, communications, water and sewer services; demolition; entry into flooded areas and removal of floodwater from structures; debris removal; tree-trimming; structural repair; roadway and bridge repair; use of cranes, aerial lifts and other heavy equipment; hazardous waste operations and emergency response activities; and repair of dams and levees.
Inherent to these operations are hazards such as:
Illness from exposure to contaminated water or food.
Risk of excessive exposure or heat stress.
Electrocution dangers related to downed electrical wires.
Carbon monoxide and electrical hazards associated with the use of portable generators.
Fall and struck-by hazards involved in tree-trimming or working at heights.
Being caught in unprotected excavations or confined spaces.
Burns, lacerations and musculoskeletal injuries.
Being struck by traffic or heavy equipment while working.
Risk of drowning in surges of moving water during clean-up.
OSHA maintains a comprehensive website on keeping disaster site workers safe during clean-up and recovery operations.
Floodwater Risks
With mass flooding, fecal matter, urine and fluids from dead animals quickly pollute floodwater. These infectious organisms include intestinal bacteria such as E. coli, Salmonella, and Shigella; Hepatitis A Virus; and agents of typhoid, paratyphoid and tetanus – along with risks for illnesses like Legionnaires' diseases and leptospirosis.
Depending on the location and severity of a weather event, floodwater may contain agricultural or industrial chemicals, pesticides, or hazardous agents coming from flooded hazardous waste sites. Harmful liquids, such as household cleaning products, gasoline and other flammable liquids, from inside or near homes also may contaminate water.
But of more concern, is those with cuts and abrasions. Disaster recovery workers and anyone in contact with floodwater should clean themselves immediately after exposure and use disinfectant on any wounds. People who have injuries displaying excessive redness, swelling or puffiness should seek medical advice immediately.
Personal Protective Equipment (PPE)
Personal protective equipment (PPE) refers to protective clothing, safety helmets or hard hats, eye protection- goggles or safety glasses, masks or respiratory protective equipment (RPE), heavy work gloves, watertight boots with steel toe and insole (not just steel shank), hearing protection, and/or other garments or equipment designed to protect the wearer's body from injury or infection.
Depending upon the type of disaster, emergency first responders and workers need a range of personal protective equipment to keep them safe from any number of hazards. Disaster first responders could face potential hazards from oil and chemicals, bacteria and other biohazards, contaminated water, mold, debris, unstable work surfaces, and electrical lines.
Floodwater PPE
To help protect you and other cleanup workers, OSHA and the CDC recommend Personal Protective Equipment (PPE) to help protect against floodwater-related hazards such as: physical, electrical, heat, chemicals, biohazards, and airborne particulate matter.
Likewise, to reduce the risk of coming into contact with contaminated floodwater, OSHA recommends workers wear waterproof boots with a steel toe and insole, an impervious body suit, hoods, latex or rubber gloves, and safety goggles. All spots that separate PPE on a worker's body should be as watertight as possible. Workers also should regularly check their PPE for holes or tears.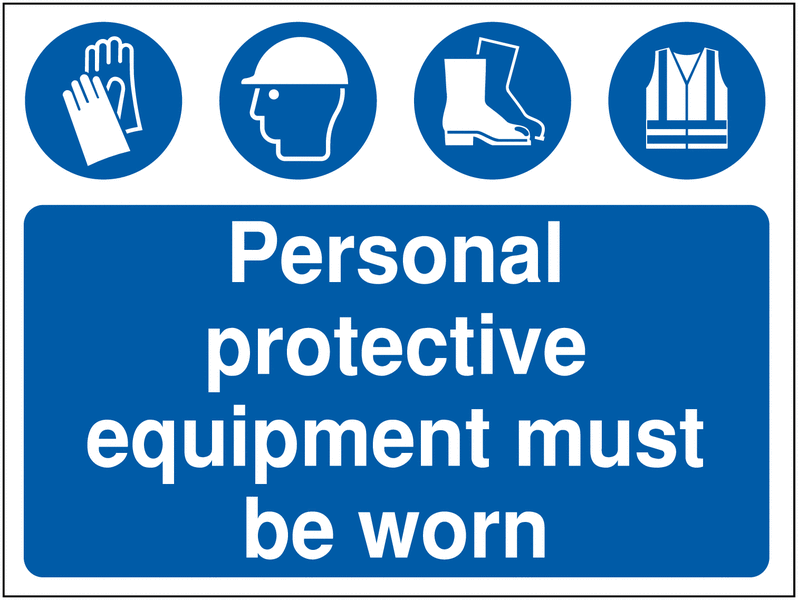 OSHA Federal Regulations for PPE
This section highlights OSHA standards, Federal Register notices (rules and proposed rules), directives (instruction to OSHA staff), and letters of interpretation (official letters of interpretation of the standards) related to PPE.
General Industry (29 CFR 1910)
Shipyard Employment (29 CFR 1915)
Marine Terminals (29 CFR 1917)
Longshoring (29 CFR 1918)