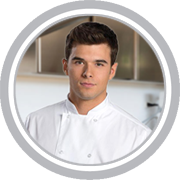 Every state requires each retail food establishment to have a person-in-charge, an owner, or manager of a food establishment be a Certified Food Manager (CFM) as outlined in the FDA Food Code by successfully passing an accredited ANSI food safety certification exam.
The Food Safety Manager Principles Course provides necessary training to help you prepare for the nationally-accredited ANSI Certification Exam.
The ANSI Certification Exam is taken to certify that the food manager has demonstrated that he or she has the knowledge, skills and abilities required to protect the public from foodborne illness.
The Food Manager Certification is usually valid for 5 years. However, in a few local jurisdictions this may vary, so make sure to check with your local health authority.
(Click on Your State Below for More Info)

Food Manager Certification Map
Alabama | Alaska | Arizona | Arkansas | California | Colorado | Connecticut | Delaware | Florida | Georgia | Hawaii | Idaho | Illinois | Indiana | Iowa | Kansas | Kentucky | Louisiana | Maine | Maryland | Massachusetts | Michigan | Minnesota | Mississippi | Missouri | Montana | Nebraska | Nevada | New Hampshire | New Jersey | New Mexico | New York | North Carolina | North Dakota | Ohio | Oklahoma | Oregon | Pennsylvania | Rhode Island | South Carolina | South Dakota | Tennessee | Texas | Utah | Vermont | Virginia | Washington | Washington DC | West Virginia | Wisconsin | Wyoming
Food Manager Course Description
The Food Safety Manager Principles Course will give you the proper food safety training to help you prepare for the nationally accredited certification exam of the ANSI-CFP (American National Standard Institute – Conference for Food Protection). The Food Safety Manager Principles Course provides necessary training leading up to the Food Protection Manager Certification Exam. This course covers food safety issues, regulations, and techniques to maintain a food-safe environment.
The course is based on the principles and recommendations of the FDA Food Code and is recommended for people involved in the preparation, handling, serving and displaying of food. Industry professionals who should consider this program include wait staff, chefs, cooks, bartenders, hosts and hostesses and supervisory personnel, such as the general manager or managers.
Course Hours: 8 Hours
Exam Duration: 1.5 Hours
Course Outline
Lesson 1: Introduction to Food Safety
Lesson 2: Biohazards, Foodborne Disease, and Food Spoilage
Lesson 3: Contaminants
Lesson 4: Food and Temperature Control
Lesson 5: Employee Health, Hygiene, and Training
Lesson 6: Purchasing, Receiving, and Storing Food
Lesson 7: Cleaning and Sanitizing
Lesson 8: Pest Control
Lesson 9: Facility Design
Lesson 10: HACCP System Basics
Lesson 11: FDA Guidelines for Developing a HACCP System
Lesson 12: Developing, Implementing, and Maintaining a HACCP Plan
Lesson 13: Seafood HACCP
Lesson 14: Consumer Steps to Safer Seafood
ANSI Certification Exam
The Learn2Serve Food Protection Manager Certification (CFPM) Exam is approved by the American National Standards Institute (ANSI) and the Conference for Food Protection (ANSI-CFP).
The final 90 question exam must be passed with a 70% or higher to get credit for completion of this course. (*This exam is not accepted in Connecticut and Philadelphia, Pennsylvania – a HACCP Course is required.)
The Exam must be proctored at a 3rd party test center location. Schedule exam online at a testing center near you. (Note: To login to the exam, you will need the username and password sent to you after purchase in the exam enrollment notice email.)
Before the Exam: To login into the exam you will need the username and password sent to you in the exam enrollment notice email. If you did not receive your username and password contact Customer Support at 855-796-3525. IMPORTANT: You must have your Username and Password available when you arrive to take the exam.
To Schedule Your Exam Online:  After purchasing the exam, please click here to schedule your exam. (Note: To login to the exam, you will need the username and password sent to you after purchase in the exam enrollment notice email.)
Course and Exam Completion Instructions: Upon receiving a passing score of 70%, candidates may print a proof of completion certificate from the LMS. Also, an official certificate will be mailed to candidates within 15 business days of exam completion. Certificate details are provided in this end of course instructions document. (400K- PDF) – Download
Accreditation Reference
American National Standards Institute and the Conference for Food Protection (ANSI-CFP) Accreditation Program
Food Protection Manager Certification Program
Company: 360training.com, Inc.
Accreditation ID: 0975
Website: ANSI (American National Standards Institute)