ANSI-CFP Approved Certification Exam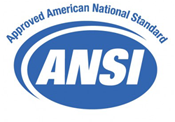 The Learn2Serve Food Protection Manager Certification is approved by the American National Standards Institute and the Conference for Food Protection (ANSI-CFP). This accredited exam is accepted in all states that have mandatory certification requirements for Food Management Professionals.
The Learn2Serve Food Protection Manager Certification Exam is designed to test and assess foodservice employees on competencies relevant to the prevention of foodborne illness.
The certificate will be valid for a maximum period of 5 years. We do recommend checking with your local health department as certificates may expire sooner.
To Enroll: Click here
Certification Exam Taken Online
The Certification is delivered online as a computer-based exam (CBT) and is subject to stringent standards for the exam administration and test security procedures. These procedures must be followed to ensure the integrity of the exam for all candidates.
Following the administration of the Food Protection Manager Exam, the Learning Management System (LMS) will provide candidates the results of their examination. Upon passing the exam, candidates may print a proof of completion certificate from the LMS. An official certificate will be mailed to candidates within 15 business days of exam completion. Certificate details are provided in the end of course instructions document.
Certification Exam can be bundled with Course – $125.00
Package Description: The Learn2Serve Food Safety Manager Principles Course provides necessary training leading up to the Food Protection Manager Certification Exam. This course covers food safety issues, regulations, and techniques to maintain a food-safe environment.
To become a Certified Food Protection Manager, a candidate must pass a food safety examination from an accredited certification provider as recognized by ANSI-CFP. The certificate will be valid for a maximum period of 5 years.
References:
American National Standards Institute and the Conference for Food Protection (ANSI-CFP) Accreditation Program
Food Protection Manager Certification Program
Company: 360training.com, Inc.
Accreditation ID: 0975
Website: ANSI (Amercian National Stadards Institute)