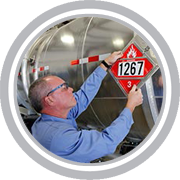 U.S. Department of Transportation (DOT) regulations require initial and recurrent training of all employees who perform work functions covered by the Hazardous Materials Regulations (HMR – 49 CFR Parts 171-180). Any employee whose work directly affects hazardous materials transportation safety is required to have training.
Our compliant Department of Transportation (DOT) and trucking transportation training assists all employees whom handle, transport, or may come into contact with hazardous materials. The training consists of everything from controlling a skid, to HAZMAT Security awareness. Other products, such as the Department of Transportation's HAZMAT Training regulation on Handling and Transporting Hazardous Materials provide the information necessary to comply with "General Awareness Training" as prescribed in Title 49 CFR, Part 172, Subpart H – Training.
Satisfy and standardize all of your compliance training needs online to save valuable time and money. Upon taking the video course and with a 70% or higher pass rate on the final exam, you will receive a certificate of completion.
Need training for more employees? Inquire here to enroll group together and receive a discount!
Video Course Name & Description (Click Headers to Sort Columns)
Duration
Price
Enroll
Bobtailing and Jackknifing 13022A

This video safety training course explains what 'bobtailing' a tractor is and why it is dangerous. It also explains the basics of braking and the different ways braking can affect the trailer and cause it to 'jackknife.'

1 hr
$25.00
Enroll
Dashboard Dieting 13026A

This video safety training course covers the basic principles on what foods are good for us and what amounts of them we should consume. The training also explains that eating right con the road an often be a challenge but it doesn't have to be difficult.

1 hr
$25.00
Enroll
DOT Alcohol and Drug Rules 13005A

This video safety training course is designed to meet the DOT requirements for training truckers in the substance abuse and drug testing program.

1 hr

$25.00
Enroll
DOT Shipping of Hazardous Materials 1049F

This video safety training course is designed to meet the training requirements of anyone involved in the shipment of hazardous materials, which includes shipping/receiving personnel. Explains CFR 49, Parts 100-185 and discusses the North American Emergency Response Guidebook (NAERG), HAZMAT training requirements for shippers, and teaches viewers how to use 49 CFR HAZMAT tables, and special provisions. An excellent basic course for shippers of hazardous materials.

1 hr

$25.00
Enroll
Driver's Daily Log 13024A

This video safety training course explains which guidelines the Federal Motor Carrier's Safety Administration requires and as to what type of information is to be recorded on the driver's daily log. This program also shows examples of how a driver can record their daily log activities and how to properly document them.

1 hr

$25.00
Enroll
Driving in Extreme Weather Conditions 13018A

This video safety training course discusses the different types of conditions that you might encounter while driving – such as heavy rain, snow, black ice, poor visibility, construction, and driving at night. This program also offers several good suggestions to help you avoid an accident.

1 hr

$25.00
Enroll
Heavy Truck Braking System and Braking Techniques 13019A

This video safety training course teaches the different types of braking system found on large trucks and how they are different than smaller cars. This program illustrates how important maintaining the braking system is and how much force must be used to stop a fully loaded truck within a short distance. The program also demonstrates the difference between standard braking systems and automatic braking system (ABS) enabled systems and how they work.

1 hr

$25.00
Enroll
Hours of Service 13016A

This video safety training course describes the proper way to document legal on-duty time. Some hours of service laws do very from state to state and this program discusses the laws established by the Federal Motor Carrier's Safety Administration. The program first starts by discussing the 11hr/14hr. rule, 7-60 rule, 8-70 rule. The program also describes the driver's daily log sheet and monthly log sheet. This program will teach you the proper way to calculate on and off duty time.

1 hr

$25.00
Enroll
Hours of Service for Property Carrying Vehicles 13021A

This video safety training course explains the hours of service laws established by the Federal Motor Carrier's Safety Administration. The program first starts by discussing the 11hr/14hr. rule, 7-60 rule, 8-70 rule. This program does NOT cover the driver's daily log.

1 hr
$25.00
Enroll
Intersections – Expect the Unexpected 13023A

This video safety training course illustrates the dangers that can happen when crossing through an intersection. This course also describes different scenarios of common events that can happen when going through an intersection.

1 hr

$49.00
Enroll
Level 1 Inspections 13015A

This video safety training course prepares drivers for roadside inspections and teaches drivers what inspectors are looking for and how to pass these inspections. The main purpose of a roadside inspection is to give the commercial motor vehicle and its driver an on-the-spot safety check.

1 hr

$25.00
Enroll
Loading and Unloading Trailers Updated 13010A

This video safety training course provides instructions to individuals who load and unload trailers. The course also covers safe lifting, safety precautions when driving on or off the trailer with lift equipment, and more.

1 hr

$25.00
Enroll
Motorcoach Inspection Level One 13011A

This video safety training course describes the process for planning and conducting motorcoach Destination, En Route, and Terminal inspections. The course further explains the applicability of the Federal Motor Carrier Safety Regulations (FMCSR) while differentiating between a truck and a motorcoach.

1 hr

$25.00
Enroll
Preventing Slips and Falls in Trucking Updated 13014A

This video safety training course was developed to train truckers how to properly enter/exit the vehicle using the three point triangulation system, in addition to the proper footwear and other safety basics. This program, if implemented can assist in greatly reducing accidents and injuries from trucking slips and falls. Good for all truck drivers, not just 18 wheelers.

1 hr

$25.00
Enroll
Rest Stop Routine 13025A

This video safety training course is designed to show you things that you can easily do to counteract the negative effects on the body that commonly affect people in the trucking industry.

1 hr

$25.00
Enroll
Road Rage 13012A

This video safety training course explains prevention techniques and what to do if you experience hostile or dangerous drivers and demonstrates how individuals can change their aggressive behavior.

1 hr
$25.00
Enroll
Safe Backing of Tractor Trailer Rigs 13020A

This video safety training course discusses some of the mechanics and techniques required in the backing of large vehicles such as tractor trailers. The techniques in this training may also apply to other large vehicles. This program talks about the cone of invisibility that is present when you are backing a large vehicle and how to minimize accidents, injuries, and property damage. This program also teaches you the proper way to dock your trailer safely so as to avoid an accident such as the trailercreeping forward from the dock.

1 hr
$25.00
Enroll
Safe Operations of Motor Vehicles 13006A

This video safety training course explains many basics of the laws as a reminder of awareness of information drivers should know, but have a tendency to forget. California Highway Patrol provides assistance in this training showing a drunk driving arrest, court appearance, community service, and much more.

1 hr

$25.00
Enroll
The Consequences of Driving a Motor Vehicle Under the Influence 13009A

This video safety training course is designed to graphically demonstrate the consequences of driving under the influence. Portions of the video were shot on location with actual Highway Patrol officers and police.

1 hr

$25.00
Enroll
Think n Drive 13013A

This video safety training course identifies driving conditions in today's busy, fast-paced environment and illustrates many new applications that are not found in standard defensive driving courses.

1 hr

$25.00
Enroll
Transportation Professionals – Nutrition and Health 13017A

This video safety training course gives insight into why good nutrition is important as bad nutrition can lead to problems such as heart attack, weight gain, diabetes, and other health related problems. This program also talks about eating right and getting proper exercise while on the road.

1 hr

$25.00
Enroll
Vehicle Pre-Trip Inspection 13004A

This video safety training course explains fifth wheel, king pin, O ring, and other inspections required before operating the vehicle. This is an excellent refresher for drivers on what to inspect on the rig before beginning a haul.

1 hr

$25.00
Enroll