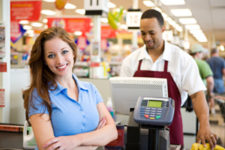 Convenience Store (C-Store) education and training should begin before any new employee is hired and continue the entire time each person works for you. Make your store the one people return to regularly by offering them the most well-trained and educated clerks around.
One of the best ways to ensure your employees are ready to start their jobs and to encourage them to stay long term is to have them take a training course about the convenience store business. Our classes are available online and provide the highest level of educational products within the convenience retailing industry.
Now you can get each member of your team off on the right foot with our innovative and professional certification program designed specifically for employees of service stations and convenience stores.
Choose UST & C-Store State Here
Underground Storage Tanks (UST) Class A-B-C Training
If you are looking for Class A/B or Class C Operator Certification Training, as required by the Energy Policy Act of 2005, you have come to the right place. The federal Energy Policy Act of 2005 made UST operator training mandatory for states receiving funding from the Environmental Protection Agency (EPA).
According to EPA's guidelines, states must identify three classes of operators and minimum requirements for each class. The three operator classes and objectives of training described below are based on EPA's guidelines. Owners and operators should check with the state where their USTs are located to determine state-specific operator class descriptions and applicable training requirements.
Class A Operator: Persons having primary responsibility for on-site operation and maintenance of underground storage tank systems.
Class B Operator: Persons having daily on-site responsibility for the operation and maintenance of underground storage tank systems.
Class C Operator: Provide clerks and non-management personnel of petroleum storage tank facilities with a basic training course that can help managers (Class B Operators) who must ensure there is a Certified Class C Operator present at their petroleum storage tank facilities.
Stay in compliance and avoid penalties by getting your Class A, B, and C Operators trained and certified today!