Course Introduction & Description
A medical coder assigns CPT, HCPCS and/or ICD9 codes to patient charts in order for a medical biller to submit a claim to the insurance company for reimbursement. It's very important that each code be to the highest specificity to accurately describe the procedure performed and diagnosis rendered.
The Medical Coding Course introduces you to the three types of medical coding systems used in health care: ICD-10-CM, CPT, and HCPCS Level II. You will learn how to transform medical descriptions of diagnoses and procedures into codes using reimbursement and coding guidelines.
The ICD-10-CM (International Classification of Diseases, Tenth Revision, Clinical Modification) is used to code and classify mortality data from death certificates, having replaced ICD-9 – effective October 1, 2015.
Satisfy and standardize all of your compliance training needs online to save valuable time and money. Upon taking the course, you will receive a certificate of completion.
Graduates of this program will be employable by private health care practices, clinics, government agencies, insurance companies and other health care facilities.
Hours: 200 hours
Price: $1995.00
Intended Audience: Entry-level claims examiner, medical coder and related occupations in the medical industry.
Objectives
Upon successful completion of this course, you will be able to:
Understand the structure of an ICD-10-CM code.
Navigate the layout of the ICD-10-CM coding manual.
Understand the purpose and use of ICD-10, CPT, and HCPCS Level II coding.
Interpret symbols, coding conventions, and guidelines used in ICD-10, CPT, and HCPCS Level II coding.
Assign diagnosis and procedure codes from ICD-10-CM and ICD-10-PCS.
Assign procedure codes from CPT and HCPCS Level II.
Assign CPT and HCPCS Level II modifiers.
Course Outline
Lesson 1: Introduction to Coding
Lesson 2: Overview of ICD-10-CM Coding
Lesson 3: ICD-10-CM Outpatient Coding and Reporting Guidelines
Lesson 4: Using ICD-10-CM
Lesson 5: Chapter-Specific Coding Guidelines (ICD-10-CM Chapters 1-8)
Lesson 6: Chapter-Specific Coding Guidelines (ICD-10-CM Chapters 9-17)
Lesson 7: Introduction to HCPCS
Lesson 8: Modifiers
Lesson 9: Evaluation and Management Services
Lesson 10: Anesthesia
Lesson 11: Surgery Guidelines and General Surgery
Lesson 12: Integumentary System
Lesson 13: Musculoskeletal System
Lesson 14: Respiratory System
Lesson 16: Hemic, lymphatic, Mediastinum, and Diaphragm
Lesson 17: Digestive System
Lesson 18: Urinary and Male Genital Systems
Lesson 19: Reproductive, Intersex Surgery, Female Genital System, and Maternity Care and Delivery
Lesson 20: Endocrine and Nervous System
Lesson 21: Eye, Ocular Adnexa, Auditory, and Operating Microscope
Lesson 22: Radiology
Lesson 23: Pathology/Laboratory
Lesson 24: Medicine
About International Classification of Diseases, Tenth Revision, Clinical Modification (ICD-10-CM)
ICD-10-CM  is an upgraded diagnostic and procedural medical coding system that, by law, must be implemented throughout the healthcare industry by October 1, 2015. This new coding system is radically different from the version currently in use, so it's important to start preparing for and implementing the massive changes to the existing coding system.
ICD-10-CM code is similar to ICD-9-CM in what it does, but distinct in it's format and layout. Where ICD-9-CM is five digits and almost entirely numeric, ICD-10-CM allows for a greater level of detail with its seven (7) alphanumeric characters. This massive overhaul of the national coding system, going from roughly 17,000 codes to about 140,000, will be the most significant change to health care in decades.
The National Center for Health Statistics (NCHS), the Federal agency responsible for use of the International Statistical Classification of Diseases and Related Health Problems, 10th revision (ICD-10) in the United States, has developed a clinical modification of the classification for morbidity purposes. The ICD-10 is used to code and classify mortality data from death certificates, having replaced ICD-9 for this purpose as of January 1, 1999. ICD-10-CM is the replacement for ICD-9-CM, volumes 1 and 2, effective October 1, 2015. Source: CDC – National Center for Health Statistics
Course Information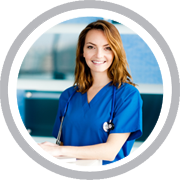 Fast and easy courses completion!
Get training faster than at traditional colleges!
100% online – No classroom attendance required.
24×7 Support: (877) 881-2235 – www.360trainingsupport.com
Printable certificate available once you complete and pass the final exam.
Medical Coding Course (ICD-10-CM)
Duration: 200 Hours
Price: $1995.00