Course Introduction & Description
The Medical Terminology Course will give you a full understanding of medical terminology, from word origins to their application. You'll learn the correct terms and spelling for all of the body systems, major pathological conditions, disorders, treatments, medications, and more.
You will also learn how medical terms can be broken up into word roots, combining vowels, prefixes, and suffixes to arrive at their meanings. Moreover, you will learn their complementary terms, abbreviations, and words that cannot be broken into parts and be able to recognize the definitions, spellings, and correct pronunciations of a large number of medical terms.  Upon completion of the course, you will receive a certificate of completion.
This course will prepare you for your role as a professional in the healthcare industry and thus be employable by private health care practices, clinics, government agencies, insurance companies and other health care facilities.
Hours: 50 hours
Price: $695.00
Intended Audience: Client Services Representative, Patient Scheduler, Patient Care Coordinator, and other related occupations in the medical industry.
Objectives
Upon successful completion of this course, you will be able to:
Describe the four word parts used to build medical terms.
Define the organs and structures (anatomy) for all major organ systems.
Define the word parts for all major organ systems.
Analyze disease and disorder, surgical, and complementary medical terms for all major organ systems.
Use medical terms correctly by pronouncing, spelling, and applying them in context.
Interpret the meaning of common abbreviations related to all major organ systems.
Use appropriate medical references.
Course Outline
Lesson 1: Your Foundation in Medical Terminology
Lesson 2: The Skeletal and Muscular Systems
Lesson 3: The Cardiovascular and Respiratory Systems
Lesson 4: The Digestive, Urinary, and Reproductive Systems
Lesson 5: Nervous and Integumentary Systems and Special Senses
Lesson 6: The Lymphatic, Immune, and Endocrine Systems
More about Medical Terminology
Medical terminology is the standardized means of communication within the healthcare industry. The importance of fluency in medical terminology, which applies to all hospital personnel, including allied healthcare professionals, cannot be overstated.
Medical terminology eases clinical proceedings and enables everyone involved in the process of treatment and care to perform more efficiently for the patient's benefit. Very often within the clinical environment, medical terminology is composed of abbreviations and understanding them makes documentation much faster and easier.
Most medical terms consist of three basic components: root word (the base of the term), prefixes (letter groups in front of the root word) and suffixes (letter groups at the end of the root word). When placed together, these three components define a particular medical term.
Medicine is a language of its own and knowing medical terminology is the foundation of practicing any healthcare-related career.
Course Information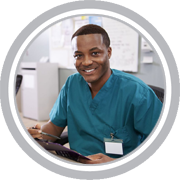 Fast and easy courses completion!
Get training faster than at traditional colleges!
100% online – No classroom attendance required.
24×7 Support: (877) 881-2235 – www.360trainingsupport.com
Printable certificate available once you complete and pass the final exam.
Medical Terminology Course
Duration: 50 Hours
Price: $695.00