Course Introduction & Description
The Medical Transcription program is designed to prepare individuals for entry-level employment as a medical transcriptionist, medical transcription editor, and related occupations in the medical industry.  Students will utilize their knowledge of medical terminology, anatomy and the English language to produce detailed and accurate reports that become a permanent part of a patient's personal medical files.
An online medical transcriptionist program can open up a variety of job opportunities. A Certified Medical Transcriptionist (CMT) can work for a physician's practice, in a hospital or as an independent contractor.
The program includes dictation by men, women and ESL doctors, all styles and difficulties. Answer keys are used to compare student work against the actual transcripts, one report at a time. Student will also learn how to overcome transcription problems, such as inaudible dictation, background noise, and accents. Upon completion of the course, you will receive a certificate of completion.
This course will prepare you for your role as a professional in the healthcare industry and thus be employable by private health care practices, clinics, government agencies, insurance companies and other health care facilities.
Hours: 250 hours
Price: $2795.00
Pre-Requisite: This program has a pre-requisite of a Medical Terminology Course or equivalent experience.
Intended Audience: Certified Medical Transcriptionist (CMT), Registered Medical Transcriptionist (RMT) and other related occupations in the medical industry.
Objectives
Upon successful completion of this course, you will be able to:
Define medical transcription and the medical record.
Identify medical record types and formats.
Apply the rules of medical record editing, privacy, security, and integrity.
Apply the general standards of style for medical transcription.
Apply rules dealing with measurements and quantitation.
Transcribe medical dictation by applying specific medical specialty standards and terms.
Course Outline
Lesson 1: Introduction
Lesson 2: Pre-transcription Phase
Lesson 3: Transcription Phase 1
Lesson 4: Transcription Phase 2
Lesson 5: Transcription Phase 3
Lesson 6: Transcription Phase 4
Lesson 7: Post-Transcription Phase
More about Medical Transcription
A medical transcriptionist listens to dictated recordings made by physicians and other health care professionals and transcribes the recordings, creating medical reports that eventually become part of patients' permanent files. In the Medical Transcriptionist Online Training Program, you'll gain the ability to transcribe medical reports and learn the skills you need to obtain an entry-level position as a medical transcriptionist.
To become a medical transcriptionist, it's important that you possess excellent editing and proofreading skills. You should have a basic understanding of a word-processing program and be proficient at keyboarding, creating documents, e-mailing, and printing. See the Prerequisites page for this course for more information.
Most medical transcriptionists work in hospitals and other medical facilities, working full 40 hours a week. Other medical organizations that hire medical transcribers include nursing homes, outpatient hospitals, rehab centers, chiropractor's offices, doctor's offices and transcription services agencies.
Course Information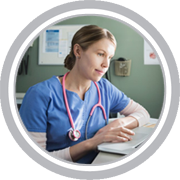 Fast and easy courses completion!
Get training faster than at traditional colleges!
100% online – No classroom attendance required.
24×7 Support: (877) 881-2235 – www.360trainingsupport.com
Printable certificate available once you complete and pass the final exam.
Medical Transcription Course
Duration: 250 Hours
Price: $2795.00